Furniture Restoration Services
Furniture restoration and repair services
completed at your home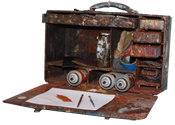 Missing ornate carvings? A broken leg? Chipped veneer? Stuck drawer? Ché Bella Furniture Restoration can bring your old or worn furniture back to life.
Whether the furniture damage is the result of ordinary wear or damage caused by water or fire, restoration and refinishing is the right choice to save your furniture.
From a simple technique such as re-gluing, hand carving or a major restoration, we are equipped and experienced to replace that missing part that will restore your furniture to its original condition.
We also offer French Polishing
French Polish is a lengthy and very repetitive process which became prominent in the 18th Century Victorian period. Finish is obtained through a specific combination of rubbing motions (generally circles and figure eight movements) using a shellac based lacquer; to obtain a translucent glow. Most furniture disfigurement caused by dents, scratches, water damage, fading and normal wear, can be restored back to practically an original finish. This is done through expert color matching, burn-ins and wood grain replication.
We restore and repair fine furniture from all the famous furniture brands including:
Althorp, American Leather, Armando Rho, Artistica, Baker, Barlow Tyrie, Bau, Bausman, Bluefish Home, Bradington-Young, Brazil Baroque, Brown Jordan, Bucks County, Busatto, Century, Charleston Forge, Cornelio Cappellini, Councill, CR Currin, DIA, Drexel Heritage, E.J. Victor, Ercole, Fauld, Ferguson Copeland, Ficks Reed, Flat Rock, Francesco Molon, French Heritage, Ethan Allen, Gamma Arredamenti, Gat Creek, Giorgetti, Guy Chaddock, Habersham, Hancock & Moore, Harden, Hekman, Henkel-Harris, Henredon, Hickory Chair, Jessica Charles, John Widdicomb, Jonathan Charles, Julian Chichester, Karat, Karges, Key City, Keyton, Kindel, LaBarge, Lillian August, Lyndon, Maitland-Smith, Marge Carson, Maria Yee, Marshall-James, Matsuoka International, Millender, Milling Road, Nichols & Stone, Old Biscayne, Palecek, Planum, Redford House, Samuelson, Sarreid, Somerset Bay, Southwood, Stanford Furniture, Stickley, Stone International, Terrasur, Theodore Alexander and Thomasville
Ché Bella Fine Furniture & Restoration Specialty Services Include:
Retailer of Heirloom quality reproduction pieces
Interior design services
High quality upholstery services
Repair broken chairs, missing wood pieces and smashed corners of your existing pieces
Contact us for a consultation.
© All Rights Reserved Ché Bella 2011